Microsoft Applied Skills – Bite Sized Learning and Accreditation
Microsoft announced a new accreditation path recently called Microsoft Applied Skills (link here), a set of bite sized assessments in particular areas of MS technology. They're not designed to provide coverage over a wide area, more like a specific area within specific technologies themselves. If I think of the Azure Data Engineer Associate certification (link here), that covers several data platform technologies in a single exam. These Applied Skills are more project focused. And I quite like that, and I'll explain why in the Who Is This For section.
Applied Skills Overview
This is how Microsoft see the initiative, sitting alongside the current certifications. But I think it goes further than that, it can be a spring board into larger certifications themselves.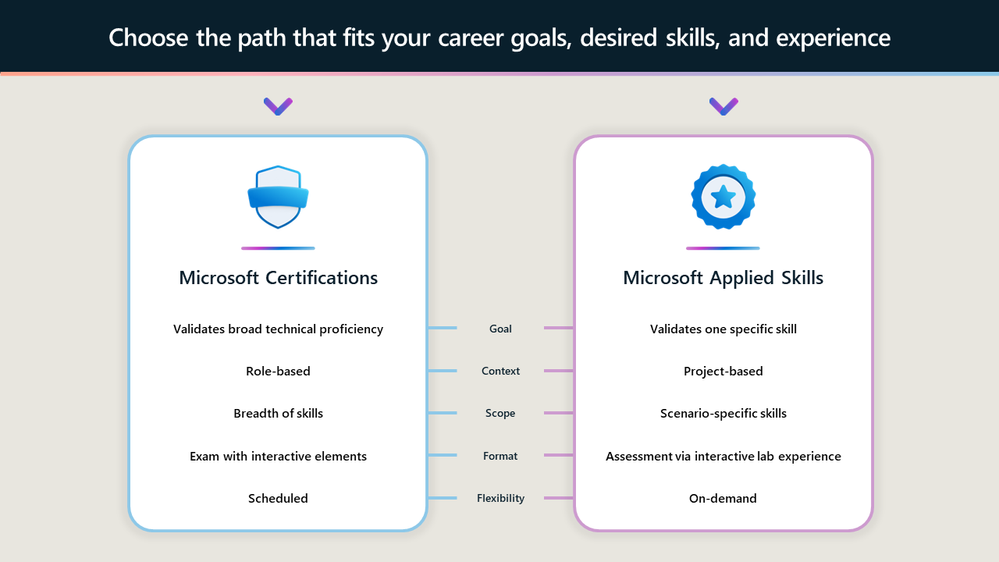 I'm always interesting in certification (see the DP-500 Data Analyst content I've done) and especially certification done in the right way. What I mean by that is, don't just get the certificate for the sake of it. Get the certificate because you learned the content – whether that was through your own learning at the start of your particular desired role/career, or whether you are experienced in that role and need to plug a few gaps in knowledge.
What I'm trying to say is, you'll get the most out of certification if you actually learn what's required to pass. After all, in an interview process you may need to explain something relevant in a particular certification.
I worked through the Create and manage automated processes by using Power Automate learn material and assessment. All in all this took around 5-6 hours to work through the Learn material and take the assessment. The assessment was hands on and required me to actually build a series of power automate flows in a hosted VM environment (through the browser, very simple) , I really liked that.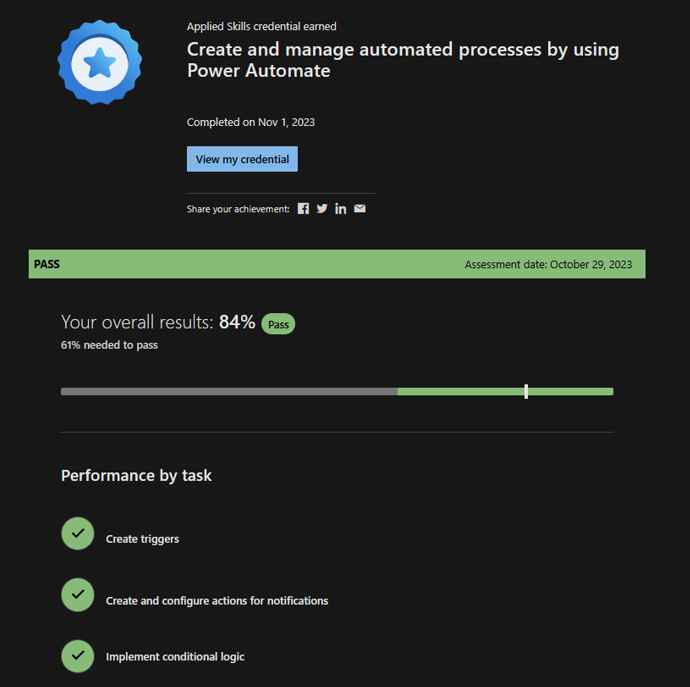 ---
Who Is This For?
And ultimately what use is it going to be? After all, it's only testing a small subset of technology – what use it that in the "real" world? Well, my opinion is that this can be very useful for individuals who may be a bit daunted about certification in general, who find exams difficult. I find exams difficult… It's useful for getting into the world of accreditation at Microsoft by taking a smaller step. Will it be useful for hiring purposes? Perhaps not, and I don't think it's being positioned in that way.
You'll need to work through the Learn material and then take an assessment. If you leave the assessment before submitting, then you'll need to wait a few days before you can take it again.
If you pass the assessment then you'll receive an accreditation which is saved to your Learn profile.
---
What's Available
Here's the current list from Microsoft. I would like to see content around the data platforms, Synapse, and Fabric. I'm sure that's coming at some point. You can access these Applied Skills on the main Certification page (link here). You'll need a Learn profile to be able to login and work through the material and take the assessment.
Secure storage for Azure Files and Azure Blob Storage
Configure secure access to your workloads using Azure networking
Deploy and configure Azure Monitor
Deploy containers by using Azure Kubernetes Service
Implement security through a pipeline using Azure DevOps
Develop an ASP.NET Core web app that consumes an API
Secure Azure services and workloads with Microsoft Defender for Cloud regulatory compliance controls
Configure SIEM security operations using Microsoft Sentinel
Create and manage automated processes by using Power Automate
---
Conclusion
Whether you just look at these as stand-alone and nothing more, I think that's great. If you want to "test the waters" with certification/assessment as a whole, then it's a great starting point.
---
References