New Microsoft Certification Coming in January 2024: Fabric Analytics Engineer Associate
Ignite is always exciting as there's always a bunch of new announcements, and included in this excitement is a new Microsoft certification, the Microsoft Certified: Fabric Analytics Engineer Associate. This is backed by a single exam, the DP-600. This is due to be released into beta in January 2024.
Yes, Microsoft has embraced the Analytics Engineer role! I always though the DP-500 Enterprise Data Analyst should have been Analytics Engineer… This makes total sense as working with Fabric items like Lakehouses, Warehouses, Notebook, Pipelines, Dataflows, and also Semantic Models (renamed from datasets recently) is a perfect fit for that Analytics Engineer role definition.
The link to the official exam documentation is as follows:
Over the coming weeks I'll start to link to Learn and Documentation for each skill being measured.
---
Overview Video
Over on YouTube I put some thoughts together about the new certification and picked out some interesting skills being measured. Check it out:
---
Skills Measured High Level
I always looks at certifications in terms of a flow, I like to see a natural progression though the skills being measured. With the DP-600 we can see that each main category flows into the next. We start with planning a Fabric solution and configuring the environment, we then load data into Lakehouses and Warehouses using Notebooks, Pipelines, and Dataflows. Then we build semantic models from that data and finally serve that data up. It's a data flow!

Organisational Role
Where does the Fabric Analytics Engineer role fit? Well, remarkably similar to the role that the DP-500 Enterprise Data Analyst role sat. Collaborating with a range of data professionals across the organisation.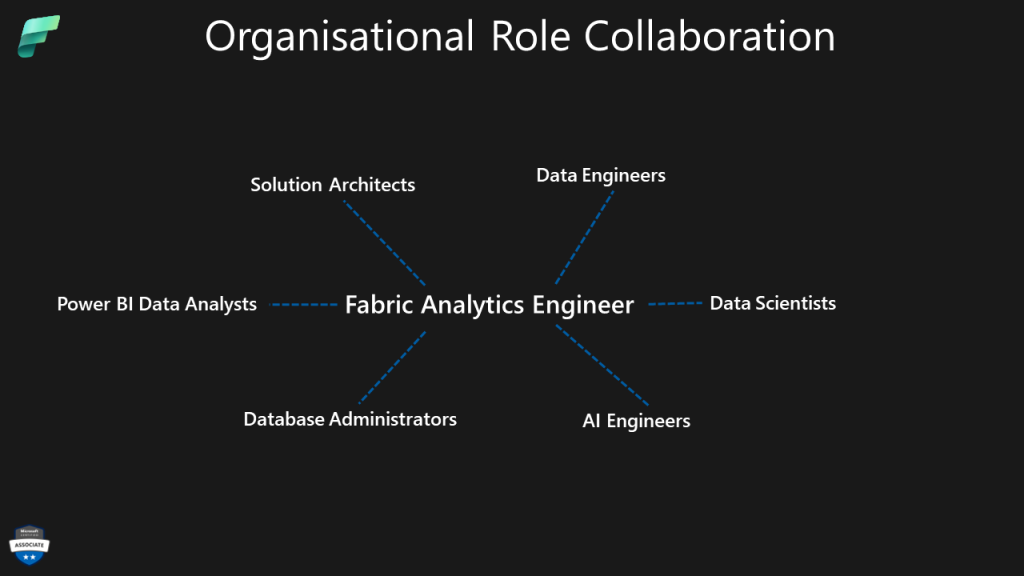 What are we dealing with here if we want to look at the bigger picture of the Fabric Analytics Engineer? Well, we're covering a full end-to-end Fabric solution. From loading Lakehouses and Warehouses with data, to serving that data up in semantic models and reports. So this certification is a great way of understanding all the aspects that make up the Analytics Engineer in Fabric.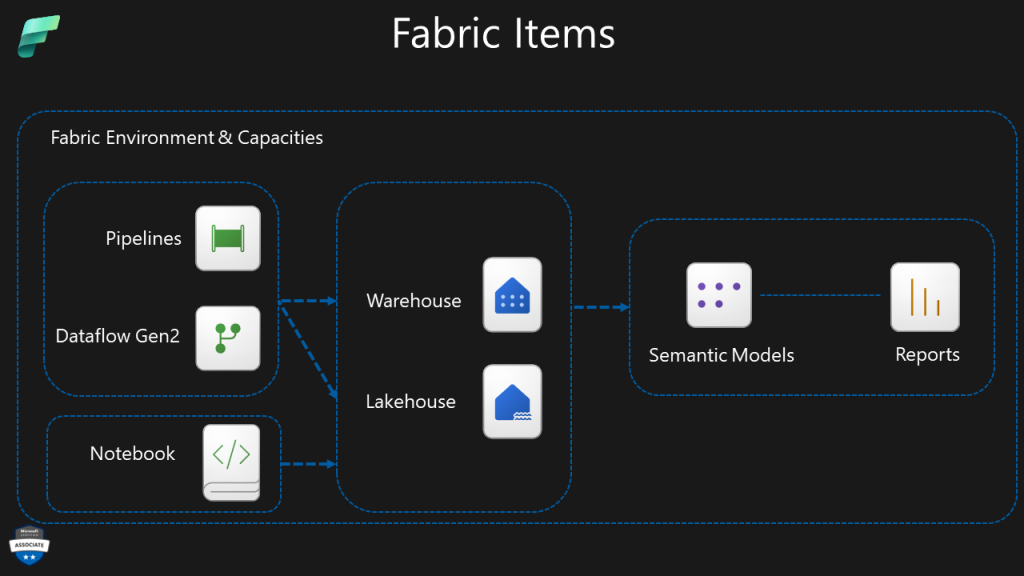 ---
As I've said previously, I believe there are multiple valid paths to achieving certifications (and no, brain dumps are not one of them…) including already-gained experience and knowledge in the area, plugging a few gaps in knowledge, or starting from the beginning and learning the subject matter whiles studying for the exam. This certification definitely fits the latter as Fabric hasn't really been available for that long.
This is a certification to look out for if you're looking to validate current experience or use the skills measured as a jumping off points for your own learning.